4

Collaborating with forks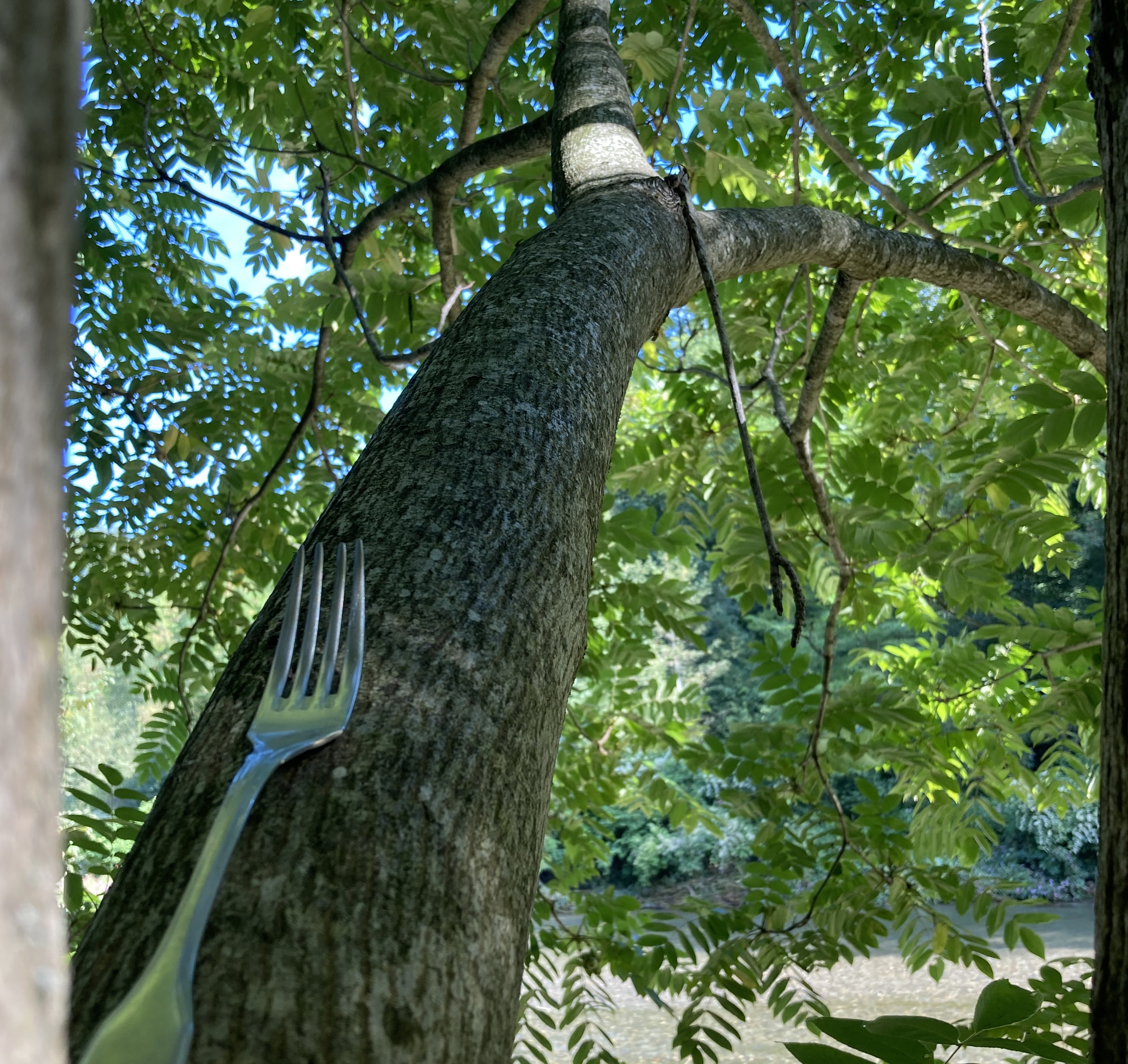 4.1

What is a fork?

GitHub is useful for developing your own code, but at some point you might want to collaborate with other people on a project. Or you might come across a GitHub repository that you want to use as a starting point for your own work. In both cases forks are the way to go.

A fork is a copy of somebody's GitHub repository. You can fork a repo and work independently of the original project. Or if you are collaborating with other people you can stay connected with the original repository via pull requests.

However, you cannot directly affect (or damage) the original project, which is somewhat less scary, right?
fork - a copy of a repo on GitHub that is connected to the original
pull request - a system for suggesting edits and additions to the owner of the original repo from your fork
origin - conventional name for the remote of your fork
upstream - conventional name for the remote of the original repo
4.1.1

The workflow

To understand the workflow, let's see how Angelina and Kingsley collaborate using GitHub (Figure 4.1).

Kingsley owns a GitHub repo. Angelina forks this repo (1) and then clones it to her computer (2). Angelina develops code using branches and makes commits (3). Then she pushes these changes to her remote repo on GitHub (4) and makes a pull request to the original repo, which Kingsley merges (5).

From now on Angelina will fetch (6) and merge (7) the newest changes from upstream into her local repo and continue the workflow (3-5).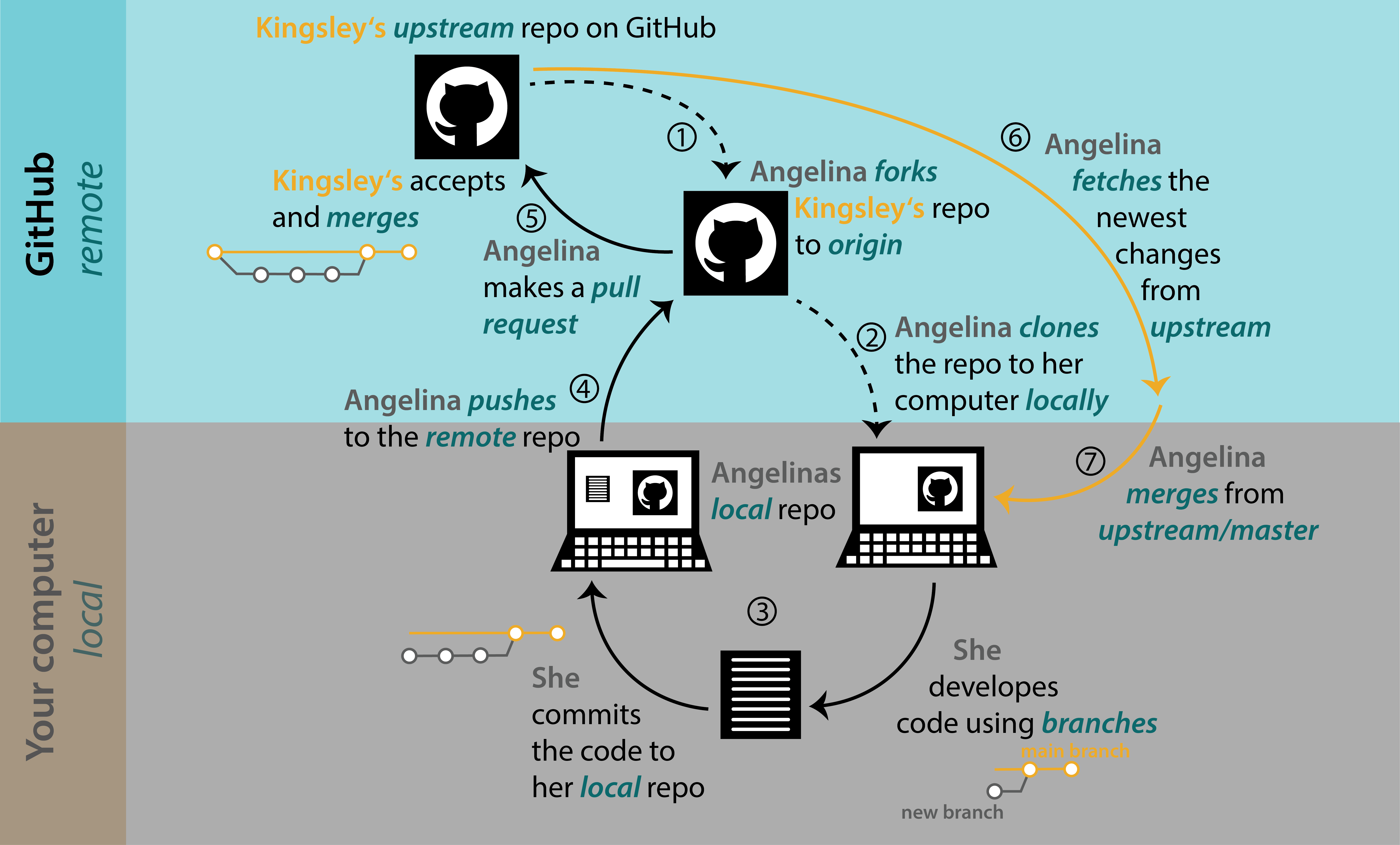 4.2

Forking a repo

You can fork a repo from R with usethis, or directly on GitHub.

The easiest way to fork a repo on GitHub and clone it to your computer is with the usethis package. Find the user name and repo name of the repo you want to fork. To fork and clone the "kingsleyshacklebolt/dragon_study" repo, use

This will
fork the repo, creating a copy in your own GitHub account.
clone your fork of the repo onto your computer. By default, the clone will be put on your desktop. You can move the entire folder to somewhere more convenient, or set the destdir argument.
set up the connections between the clone, your fork and the original repo. You can see these connections in the terminal with the command
Sometimes if you only want to make a small change to a repo, it might be more convenient to make a fork on GitHub and make all the edits directly on GitHub.
To do this, go to GitHub, log into your account and go to the repository you want to fork.
Let us assume that Angelina wants to fork the magic_dragon repo from biostats. Click on the fork button on the top right of the webpage and wait until the repo is forked.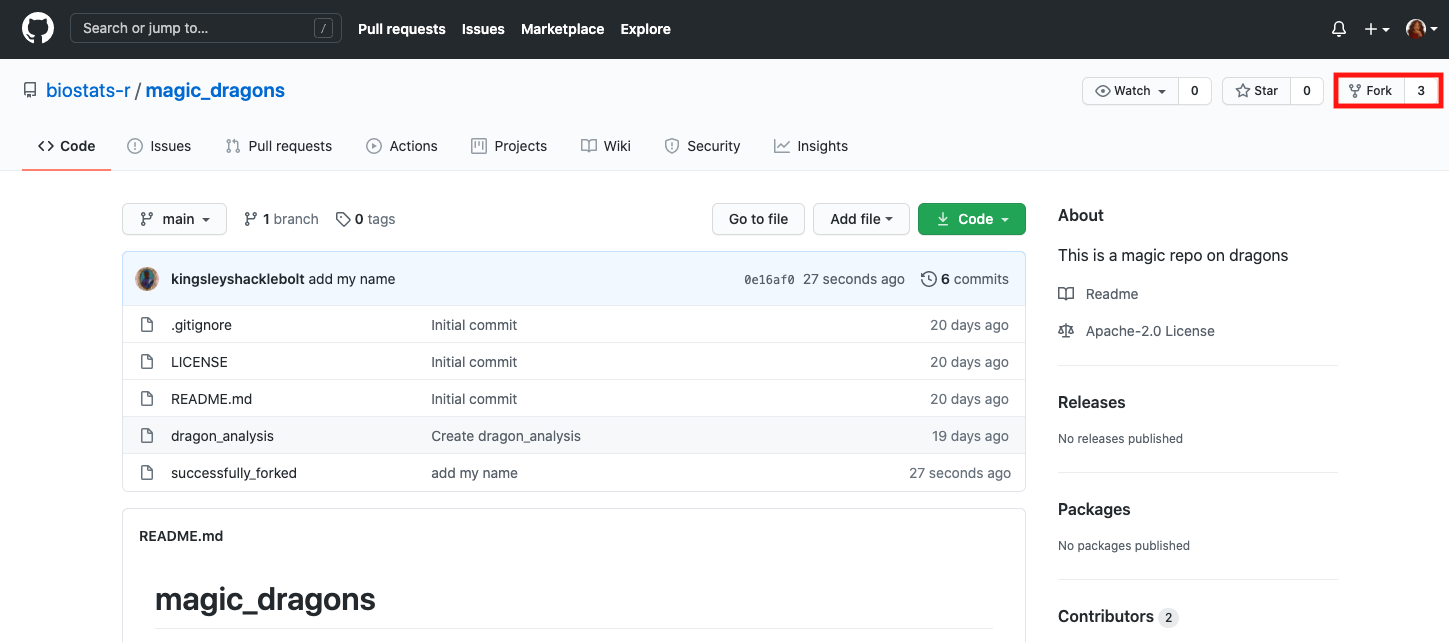 4.3

Working on a fork

You have forked a repository and are ready to start working on the project.

But first we need to make a branch. Bad things happen if you work on the main branch of fork. For example, it becomes difficult to keep the repo in sync with the upstream repo without many merge conflicts. See Section 3.1.2 for how to make a new branch in RStudio.

Seriously, don't even consider making commits to the main branch of a fork. You can protect the main branch from accidental commits, see Section 4.3.6.3.