13
Getting started with ggplot
13.1

The ggplot2 package

ggplot2 is part of tidyverse so if you have already installed tidyverse, you already have ggplot2 installed. If not, see Section 5.6.1.

To activate ggplot2, you can use

But most of the time you should use library(tidyverse).
13.2

The basics

ggplot is based on the grammar of graphics, a terminology describing the components of a figure.

Let us have a look at these terms.

To produce a figure or plot, we take data values and use elements like dots, squares, lines, and colour to convert the data into a visual graphic. There are many different ways to make a figure, but there are some rules that apply in general. A plot is always built on data, and a number of other components called aesthetics, geometry and scales. These different components combined make up a figure.
13.3

The code

The code for to make a scatterplot with the penguins dataset from the palmerpenguins package looks something like this:
ggplot

(

data 

=

 

penguins

,
       mapping 

=

 aes

(

x 

=

 

body_mass_g

, y 

=

 

bill_length_mm

, colour 

=

 

species

)

)

 

+


  geom_point

(

)

 

+


  labs

(

x 

=

 

"Body mass, g"

, y 

=

 

"Bill length, mm"

, colour 

=

 

"Species"

)

 

+


  theme_bw

(

)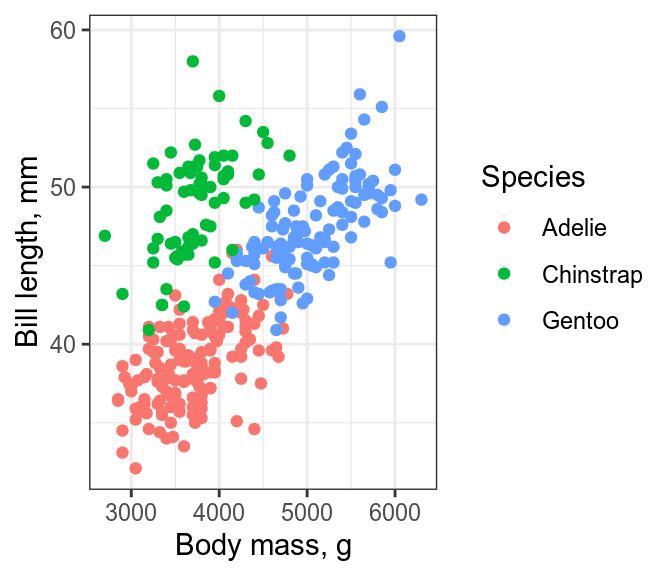 The main function is ggplot() and is used to define the data and the aesthetics. The data is a data frame or tibble containing the variables to produce the figure. The mapping uses aes() to describe how the variables should be mapped onto the aestetics, such as x and y position or colour. Every other component of the plot is added with +. It makes the code easier to read if you put a new line after each + (the + must go at the end of a line, not at the start). These other elements include the graphical elements that display the data, usually created with a geom_*() function, labels created with labs(), and themes (Chapter 15) that change the non-data elements of the plot with themes().
You can think of it as different layers that are put on top of each other see Figure 13.1.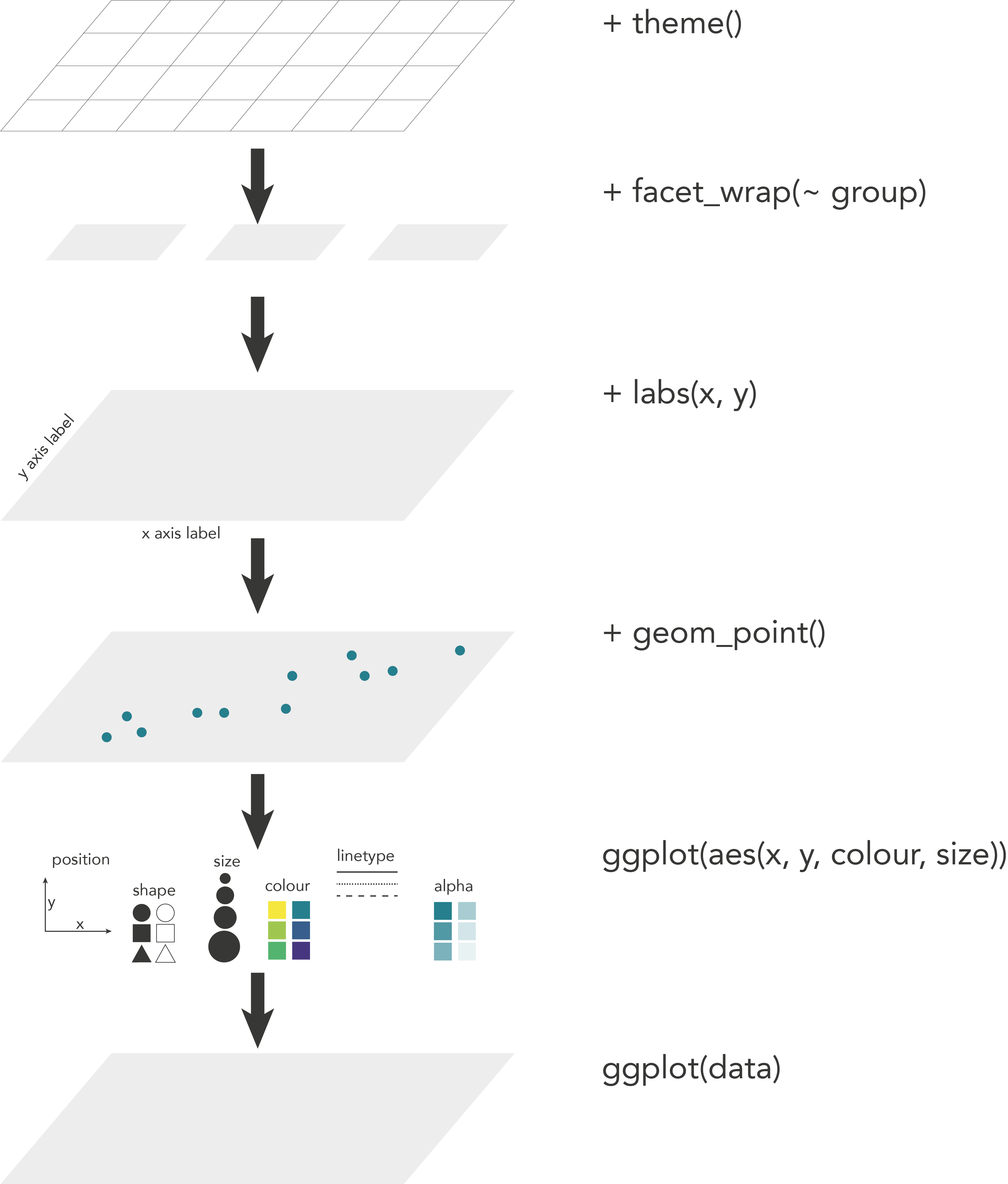 13.4

Building a ggplot figure

Now we will describe the different components a ggplot is made of.
13.5

Trouble shooting

In the beginning you will make mistakes which will result in error messages, warnings or incomplete plots. These mistakes often occur when one of the layers is missing, because a + is forgotten at the end of a line, due to a typo, or the data or other elements are forgotten.

To debug ggplot errors and other problems, we need to find where the error is. Run the first line (excluding with + at the end) and see what happens. If it does what you expect that line to run, then run the first two lines. You can also comment lines out (by putting a # in front of them). I recommend typing NULL on the line after the plot code so that if there is a extra + after removing a line, the plot won't give a strange error by adding the next line of code.
ggplot

(

penguins

, aes

(

x 

=

 

species

, y 

=

 

bill_length_mm

)

)

 

+


  geom_violin

(

)

 

+

 

# extra + after commenting out labs()




#  labs(x = "Species", y = Bill length)




NULL

 

#This will end the plot code
Let us look at some common mistakes and how the ggplot is displayed or not.
13.5.1

No data

If you forget to specify the data ggplot will not be able to make a plot and you will get the following error message:
Error in `fortify()`:
! `data` must be a data frame, or other object coercible by `fortify()`, not an S3 object with class uneval.
Did you accidentally pass `aes()` to the `data` argument?
13.5.2

Missing aesthetics

If you forget to define the aesthetics aes() you will also get an error message and a empty image:
Error in `check_required_aesthetics()`:
! geom_point requires the following missing aesthetics: x and y
13.5.3

Missing geometry

If the geometry is missing geom_point(), ggplot will draw a empty plot, with axis labels, but show not data, because you have not defined how to plot the data.
Contributors
Aud Halbritter
Richard Telford