R can import data from files in many different formats. For example:
csv files with the readr package
excel files with the readxl package
xlm files with the xml2 package
netcdf files with the ncdf4 package
shapefiles with the sf package
In this chapter, you will learn how to import tabular data from an external text file as a tibble. We will use functions from the package readr which is part of the tidyverse package, so make sure that you have activated it with library(tidyverse).
7.1

What are tabular data?

Tabular data are data that is organized in the form of a table with rows and columns. A table often has a header, i.e. an additional row that displays variable names. Here is an example of a formatted table with header:
Table 7.1: A simple table with header row

| month | temperature (Celsius) | precipitation (mm) | Wind (m/s) |
| --- | --- | --- | --- |
| January | -3.4 | 29.4 | 1.3 |
| February | -0.4 | 15.4 | 0.9 |
| March | -1.7 | 57.6 | 1.7 |
| april | 3.8 | 3.2 | 0.8 |
| May | 5.1 | 25.2 | 1.4 |
| June | 10.6 | 52.4 | 1.1 |
| July | 13.1 | 65.0 | 1.0 |
| August | 12.8 | 67.4 | 0.7 |
| September | 6.9 | 79.0 | 1.2 |
| October | 2.5 | 18.2 | 0.8 |
| November | -2.2 | 7.8 | 0.8 |
| December | 1.5 | 92.0 | 1.5 |
In this example, the table consists of 4 variables (columns) and 12 observations (rows) in addition to the header (top row). All cell contents are clearly delimited.
Below is an example of a non-tabular dataset. This dataset is a list of profiles with recurrent fields (Name, Position, Institution). Each profile contains three lines with a field:value pair.
Name: Aud Halbritter
Position: Researcher
Institution: UiB
-----------------------------
Name: Jonathan Soule
Position: Senior Engineer
Institution: UiB
-----------------------------
Name: Richard J. Telford
Position: Associate Professor
Institution: UiB
-----------------------------
7.2

About tidy data

Sooner or later, you will read about tidy data which is a standard, consistent way to organize tabular data in R. Briefly, tidy data follows a short series of rules:
each variable in the data set is presented in a specific column,
each observation in the data set is presented in a specific row,
each cell at the intersection of a row and a column contains a single value.
The following figure illustrates well these rules.

The dataset presented in Table 7.1 respects all three rules, and is thus a tidy dataset.
On the contrary, the following dataset is not tidy:
Warning: One or more parsing issues, see `problems()` for details
Indeed, at least one of the rules is broken since columns display data matching several variables (Date, time, Weather, etc).
Importing data from a file containing tidy data is a great way to start your work, but it is not a prerequisite to data import. As long as your data is tabular, you will be able to import it in R, and later you will have the chance to tidy it (see Chapter 9).
7.3

File formats

Tabular data may be stored in files using various formats, spreadsheets, etc. The most common spreadsheets store data in their own, proprietary file format, e.g. MS Excel which produces .xls and .xlsx files. Such formats may be a limitation to data management in R. Simpler formats such as plain text files with .txt or .csv should always be preferred when saving or exporting data from spreadsheets.
7.4

Delimited files

One of the most common format for storing tabular data is plain text files with a delimiter between the columns. The delimiter is often a comma or a semi-colon, but other delimiters are possible including tabs.

Comma or semi-colon delimited files are known as CSV files, which stands for Comma-Separated Values, and often have a .csv extension. They may also have a .txt extension.

In a CSV-formatted file, the data is stored in a similar manner to this: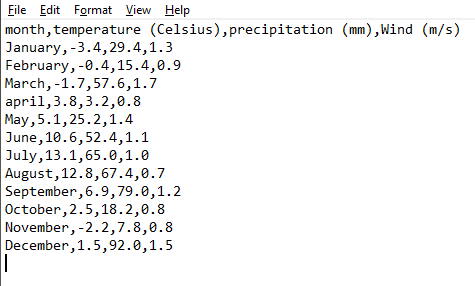 For information, this file matches the example in Table 7.1. Each line corresponds to a row in the table (including header) and cell contents are separated with a comma ,. Note that the period symbol . is used as decimal separator.
The use of commas in the CSV format is however not universal. Other symbols such as a semi-colon ; may be used as a delimiter. This is the case in several European countries where commas are decimal separator. Here is the same data set as above, this time in the European format: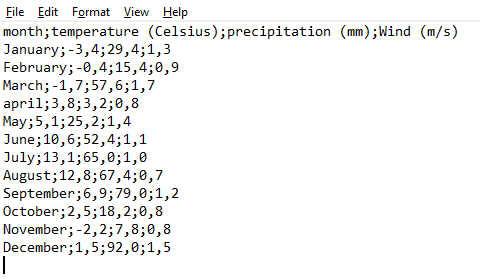 7.5

Know your data!

There are several reasons why different symbols are used in CSV files. Among these reasons are:
locale, i.e. the parameters that define the language and regional settings (currency, time and date, number format setting) in use on your machine,
software-based preferences, the settings which are defined by default by the software that you have used to punch your data,
user-based preferences, the settings that you choose when punching or saving data.
It is thus very important to know what your CSV file is made of. We therefore recommend to systematically inspect your data file before importing in R. One way to do it is to open the text file in a text editor (for example RStudio), or to read some of the file into R with read_lines('file.txt') (the n_max argument is useful if there is lots of data) and determine:
which symbol is used as decimal separator (, or .)
which symbol is used as delimiter (, or ;)
any extra lines of data that need removing
Here is our previous example:
read_lines

(

'data/weather.csv'

)
 [1] "month,temperature (Celsius),precipitation (mm),Wind (m/s)"
 [2] "January,-3.4,29.4,1.3"                                    
 [3] "February,-0.4,15.4,0.9"                                   
 [4] "March,-1.7,57.6,1.7"                                      
 [5] "april,3.8,3.2,0.8"                                        
 [6] "May,5.1,25.2,1.4"                                         
 [7] "June,10.6,52.4,1.1"                                       
 [8] "July,13.1,65.0,1.0"                                       
 [9] "August,12.8,67.4,0.7"                                     
[10] "September,6.9,79.0,1.2"                                   
[11] "October,2.5,18.2,0.8"                                     
[12] "November,-2.2,7.8,0.8"                                    
[13] "December,1.5,92.0,1.5"                                    
In this file, the decimal separator is . and the delimiter is ,.
7.6

Importing delimited files

We can import delimited files such as csv files with readr::read_delim(). read_delim() will import the data as a tibble.

In the following example, we import the file weather.csv located in the subfolder data of the current RStudio project into the object weather.
Rows: 12 Columns: 4
── Column specification ────────────────────────────────────────────────────────
Delimiter: ","
chr (1): month
dbl (3): temperature (Celsius), precipitation (mm), Wind (m/s)

ℹ Use `spec()` to retrieve the full column specification for this data.
ℹ Specify the column types or set `show_col_types = FALSE` to quiet this message.
When the function is executed, the console shows a short series of messages. In the frame above, the message Column specification tells you that the content of the column month has been recognized as of data type character, and that the three other columns have been recognized as double (which is similar to numeric).
Now the tibble weather is available in R as you may see in the tab Environment (see Figure 7.2).

You can display the table as follows:
# A tibble: 12 × 4
   month     `temperature (Celsius)` `precipitation (mm)` `Wind (m/s)`
   <chr>                       <dbl>                <dbl>        <dbl>
 1 January                      -3.4                 29.4          1.3
 2 February                     -0.4                 15.4          0.9
 3 March                        -1.7                 57.6          1.7
 4 april                         3.8                  3.2          0.8
 5 May                           5.1                 25.2          1.4
 6 June                         10.6                 52.4          1.1
 7 July                         13.1                 65            1  
 8 August                       12.8                 67.4          0.7
 9 September                     6.9                 79            1.2
10 October                       2.5                 18.2          0.8
11 November                     -2.2                  7.8          0.8
12 December                      1.5                 92            1.5
7.7

Excel files

Even though we don't recommend you use Excel files for your own data, you need to know how to import such data as you may be given Excel files for find them in a data repository. To make your analysis reproducible, it is important to keep the files in their original format rather than converting them to CSV so that all the processing is done with code.

Excel files can be imported with the readxl package which is installed with tidyverse but not loaded until you run library(readxl). The function read_excel() will import the data; it can be worth using excel_sheets() first to check the names of the sheets.

Many of the arguments for skipping rows at the start of the file, enforcing column types, etc, are similar to those in readr::read_delim()
Contributors
Jonathan Soulé
Aud Halbritter
Richard Telford