2
Installing and configuring R and RStudio
In this chapter, you will
learn why we use the RStudio integrated development environment for working with R
install R and RStudio
find your way around RStudio
configure RStudio
If you already have R and RStudio installed, check they are the required version (or more recent)
2.1

Working in R via RStudio

R comes with its own Graphical User Interface (GUI; Figure 2.1). Nearly everything in R happens either in the script editor (R editor - Figure 2.1, left window) where the user writes code, or in the console (R console - Figure 2.1, right window) which runs commands and prints results.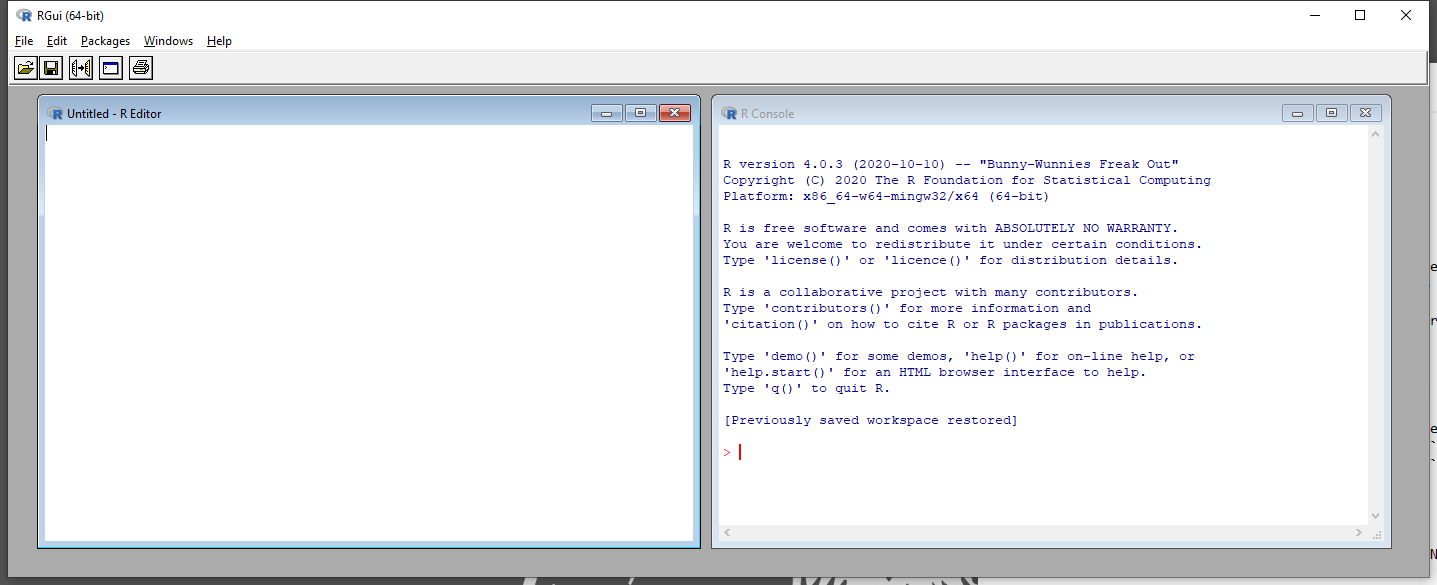 It is a minimalist GUI that does not offer much more than a short main menu and five buttons in total. This is the engine that will do all your analyses, but you will rarely, if ever, use it directly.
Instead, you will use a more user-friendly interface, such as RStudio.
2.1.1

What is RStudio?

RStudio is an integrated development environment (IDE) for the R language written by posit (which used to be called RStudio). RStudio runs R "in the background", and replaces R's minimalist interface with its own (Figure 2.2). This means that you do not lose anything of R's power, you simply work with it from a different perspective.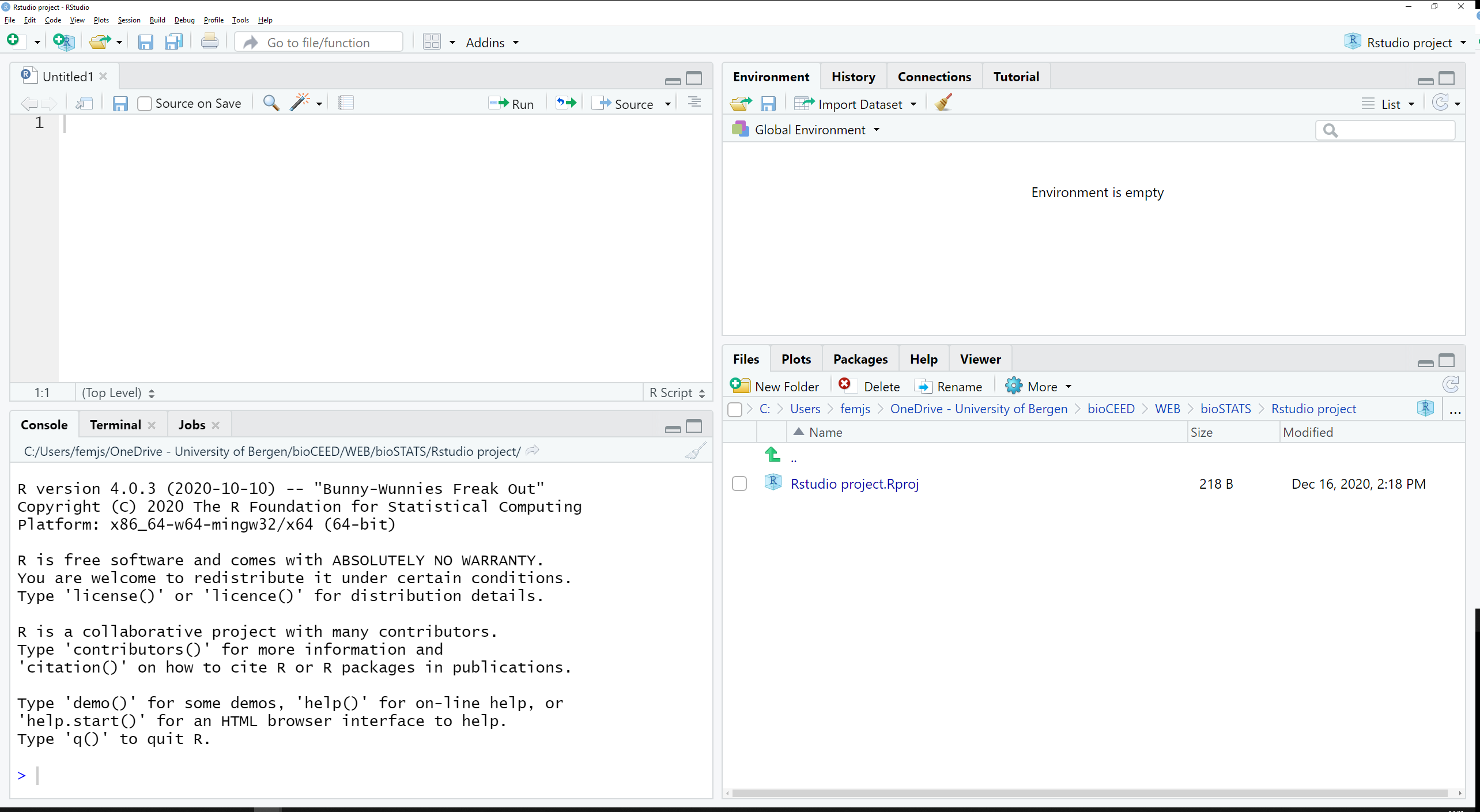 This interface is more complex and organized. The script editor (top left) is more advanced and equipped with a syntax highlighter, which will prove useful when writing code. Many functions (console, file explorer, etc) are available and dispatched in panes and tabs. A significant benefit of using RStudio is the possibility to create and manage projects. Projects let you organize your tasks and load only the files and packages that you define as necessary for the workflow.
We will further describe RStudio's interface in Section 2.3.1 and how to set up projects in Chapter 3. For now, let's install everything we need, starting with R and RStudio.
2.2

Installing R and RStudio

There are several ways to install R and RStudio, depending on the state of your computer.

Install R and RStudio on your laptop (or set up one of the virtual computers).

If you already have these installed, check that the R version is 4.2 or newer (run R.version.string) and the RStudio version is 2023.03.0 or newer (run rstudioapi::versionInfo()$long_version).
2.3

Starting with RStudio

Now that both R and RStudio are installed on your computer, you are ready to start. Note that you do not (usually) need to do anything to link RStudio to R or vice versa. Everything should be ready to use.
2.4

Customising RStudio

R/RStudio does not require much configuring at start, even though the menus in Tools > Global Options… let you change dozens of settings at any time. In fact, you should be ready to work right now. That said, there are a couple of things in RStudio that we recommend you customize.
2.4.1

Taking care of .Rdata

.Rdata is a file that R uses to store the workspace - objects, data, etc in the Environment - when you close RStudio so that you can resume working on an analysis when you restart RStudio. This sounds like a good idea, but it really isn't, as the environment tends to fill up with objects and you no longer remember how you made them. This is bad for reproducibility. Much better to save the code needed to make the objects in a script (Chapter 4). Saving and loading the workspace also slows R down (a lot if you have many large objects).

We advise you to prevent RStudio from saving changes and restoring .Rdata to improve reproducibility.

Go to
Tools
Global Options…
General
Basic
to get to the menu shown in Figure 2.17. In the section Workspace (Figure 2.17, red box), uncheck the box, and select "Never" in the dropdown menu.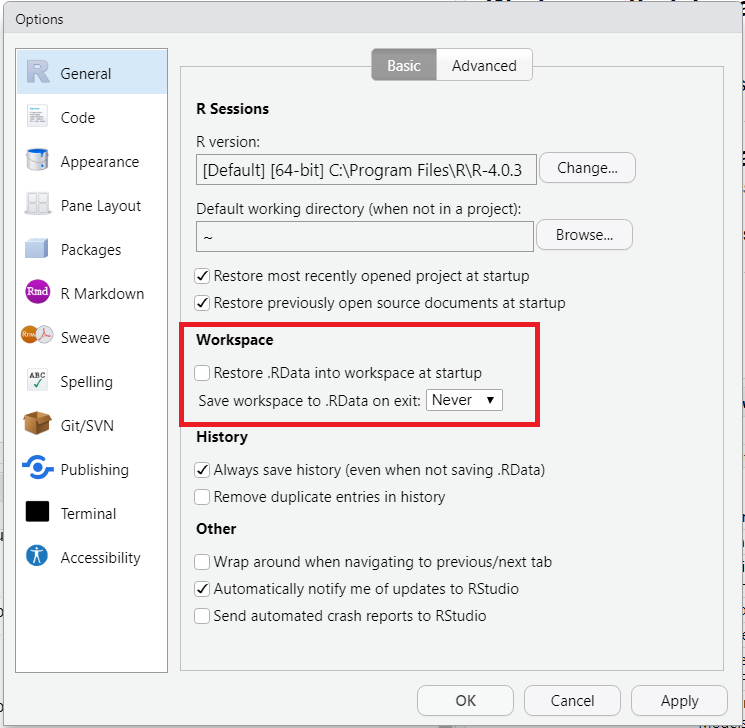 Or, if you install the usethis package, you can do this in code with
2.4.2

Soft-wrapping R scripts

When the length of a code line exceeds the width of the editor, a horizontal scrollbar appears at the bottom of the editor, allowing you to navigate and review the whole line from its first to its last character. This setting makes things impractical as you will often have to scroll back and forth when reviewing multiple long lines. The obvious solution is to make sure you write short lines of code - a maximum of 80 characters is often recommended. However on a laptop, this can still be too long, so an alternative is to force RStudio to split the code onto the next line(s) of the editor – this is called soft-wrapping. We recommend that you activate soft-wrapping in RStudio.

Go to
Tools
Global Options…
Code
Editing
to get to the menu shown in Figure 2.18 and check the box "Soft-wrap R source files" highlighted by the red box.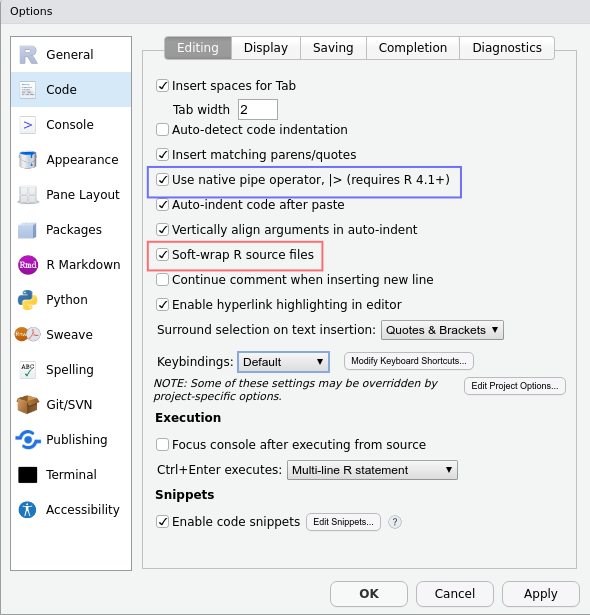 2.4.3

Use the native pipe

While you have the menu open to enable soft wrapping, also enable the native pipe operator keyboard shortcut, by checking the box highlighted by the blue box in Figure 2.18. You will learn more about pipes in Chapter 12.

Configure RStudio so that
.Rdata files are not restored when RStudio is started
.Rdata files are not saved when you close RStudio
Soft-wrap is set on
The native pipe keyboard shortcut is enabled
2.5

RStudio keyboard short-cuts

You have already been introduced to RStudio short-cuts to run code. There are many more - press . You certainly don't need to learn them all. Here are some we find useful
run line
Find/replace
Find in files
Insert assignment operator
Comment/uncomment selected lines
Help on selected function
You will be introduced to more short-cuts later.
Question 1: Why should you set RStudio option to never restore .RData on start-up
You may find the following links useful:
You will now learn the basics of the R language, make simple calculations, learn about data types, store and handle data in R objects.
Contributors
Jonathan Soulé
Aud Halbritter
Richard Telford